home

aktualności

sezon

bilety

repertuar

o teatrze

zespół

kontakt

mitos21

re_wizje

partnerzy

cyfrowe muzeum

aktualności
CZERWIEC / JUNE 2013 > przedstawienia z angielskimi napisami >< performances with English subtitles
2013-06-18


Ticket office: +48 12 422 40 40, rezerwacja@stary.pl


29 and 30 June 2013, 7:15 p.m.
the Big Stage (Duża Scena, 1 Jagiellońska Street)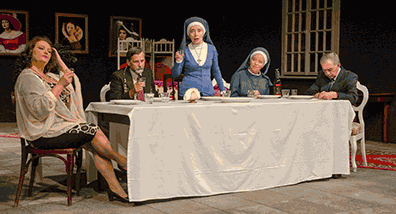 by Stanisław Grochowiak
direction: Adam Nalepa
dramaturgy: Jakub Roszkowski
set design: Maciej Chojnacki
music: Marcin Mirowski
video: Michał Trojanowski
cast:
Lidia Duda, Anna Dymna, Małgorzata Gałkowska, Aldona Grochal, Anna Polony, Dorota Segda, Aleksander Fabisiak, Mieczysław Grąbka, Leszek Piskorz, Jerzy Święch, Jerzy Trela and Mieczysław Mejza
premiere: September 29, 2012
at the Big Stage (Duża Scena)
duration of performance: 1 hour and 30 minutes (without intervals)
"Theatre is the happiest place for all people who stealthily put their childhood in their pockets and set off with it to have fun until the end of their lives," said the outstanding German director Max Reinhardt. "When that childish and mischievous glint appears in the eyes of the distinguished actors of the Stary Theatre during the rehearsal of Grochowiak's "Boys", where they impersonate old age pensioners escaping from old age and the vision of the end, this is the best evidence of how right Reinhardt was," acknowledges Adam Nalepa, director of the performance in the Stary Theatre. In the age of omnipresent worship of youth, it is sometimes worth going the opposite way and thinking about things that are unavoidable for all of us. Therefore, it is not surprising that – as Anna R. Burzyńska wrote in her book "Maska twarzy" – "this drama from the life of older spheres is Grochowiak's play, which is received very emotionally, and his characters really appear to us to be boys with a very intense internal life – and not the old men doomed to a slow physical withering."
"The boys, having sent a female friend to stand on the lookout in front of the room's door, are sitting inside, drinking vodka and talking about women, backbiting one another and their absent friends – this is a well-known picture from summer camp stories and films about teenagers living in boarding schools. There would be nothing surprising in it if it were not for the fact that the boys we are talking about are in their seventies and are not on holiday but in an assisted living facility run by nuns. (…) The tragicomic performance of Nalepa, which makes the audience resound with peals of laughter, ends with the sad return of the transformed Kalmita to his former room, now functioning as a TV room. Yet in reality, this is not the scene that awaken the melancholic thoughts in us. The performance is twice interrupted with the statements of young people about old age and of old people about youth, which are shown on a screen. The conclusion from this cluster of opinions is one: youth is carefree and social, whereas old age is looking back and the loneliness of people who have their best years behind them. But both groups want the same – pompous love, agility and fulfilment. (…) Being locked in a single room, slightly kitsch and slightly communist in its interior decoration, intensifies the feeling that even if there is an external world, even if there is something beyond the room… it is only a life that is unattainable and distant. The feeling that pervaded the statements of young people about the old and their loneliness from which there is no escape. Therefore, it is easier when the old are not present in the public eye; then we do not have to look at that which is going to get at us anyway."
Aleksandra Sowa, "Teatr dla Was", 3.11.2012

Adam Nalepa
Nalepa comes from Chorzów, but he spent almost his entire life in Germany. In Darmstadt, he completed studies in piano class; in Frankfurt, he studied medicine; he is a graduate of theatrology, filmography and ancient history of Ruhr University in Bochum. Nalepa worked as a translator, columnist and theatre critic, and he has organised academic workshops and courses on dramaturgy and directing. He is the co-founder of the Dekadenz Theatre, where he also played. Between 2002 and 2005, he was a director's assistant in Düsseldorfer Schauspielhaus, where he directed such plays as Thomas Bernhard's "Comedian" and Thomas Brusig's "Life Until the Men's Team". He also cooperated in Germany and in Austria with the Polish directors Janusz Wiśniewski, Mikołaj Grabowiecki and Jan Klata.
He is related to the Wybrzeże Theatre in Gdańsk, where he directed "The Tin Drum", based on Günter Grass' novel (2007), and "The Stone" by Marius von Mayenburg (2009), as well as Zygmunt Krasiński's "The Un-Divine Comedy" (2011).
28, 29 and 30 June 2013, 7:15 p.m.
the Chamber Stage (Scena Kameralna, 21 Starowiślna Street)
ANATOMY OF TITUS – FALL OF ROME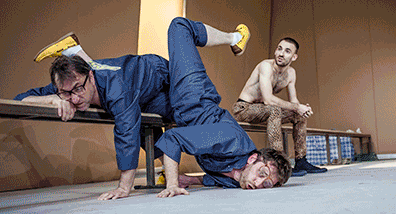 by Heiner Müller
translation: Monika Muskała
direction: Wojtek Klemm
dramaturgy: Igor Stokfiszewski
set design: Mascha Mazur
costumes: Julia Kornacka
music: Dominik Strycharski
choreography: Efrat Stempler
light: Torsten König
cast:
Katarzyna Krzanowska, Beata Paluch, Paulina Puślednik, Arkadiusz Brykalski, Bolesław Brzozowski, Grzegorz Grabowski, Marcin Kalisz, Wiktor Loga-Skarczewski, Błażej Peszek, Jan Peszek/Paweł Kruszelnicki, Krzysztof Wieszczek, Krzysztof Zawadzki
premiere: June 16, 2012 at the Chamber Stage (Scena Kameralna)
duration of performance: 1 hour and 50 minutes (without intervals)
This paraphrasing of Shakespeare's drama about the tragic fate of Roman leader Titus Andronicus is an apocalyptic vision of the collapse of an empire reacting with hysteria to the controversies tormenting it. Violence changes into bestial cruelty, revenge becomes an irresistible desire of retaliation and strangers take on the form of repulsive barbarians, whose exclusion unexpectedly acquires features of elimination. This drama written in 1984 by Heiner Müller – an outstanding author from eastern Germany – turned out to be a prophecy foretelling the collapse of the Soviet empire. Could it be interpreted today as a vision of Europe's future, tormented with economic and political unrest?
"Walls encircling the stage, with the exception of an opening to the bathhouse, which closes off the perspective, are built of grey cardboard. Immediately, significant associations appear: lack of stability – this is a house of cards. Yet it is environmentally friendly, but only in the sphere of decorum. Ideas governing the European community, which are stripped bare by Klemm, are sombre, based on a bloody fight for power, bloodshed and sex.
Moments of purification tend to be rare, like the scene in the bathhouse when naked actors, men and women, Romans and Greeks, wipe off the dirt after the previous battle and rest in streams of water and clouds of steam before the next fight. Tamora, Queen of the Goths, taken prisoner with her sons and lover, Aaron, Saturninus, son of Caesar, who is striving for succession and competing with his brother. Lucius and Lavinia, the children of the heroic Roman general Titus Andronicus, are also bathing. Only he is absent in the bathhouse. Jan Peszek, who plays Titus, is sitting on a bench to the left side of the stage. He is the only just person among these people entangled in dirty games. Majestic like a statute of a noble hero; naked, having nothing to hide. These few minutes at the beginning of the performance are also the last few minutes when we see Titus as a victorious leader, who played fair, because he would only fight the enemy on the battlefield (…). Sometimes, there are strong rhythms and visual effects stimulating the sight and mind, and sometimes we are sorry for the actors that have to walk off the stage on their knees. Yet Müller forewarns the actors that the roles grow into their bodies, the masks into faces, and his text cannot be performed with impunity."
Jacek Cieślak, "Teatr" 2012 No. 9 online

Wojtek Klemm
Born in Warsaw; in 1985, he left for Germany. Graduate of the directing faculty at Ernst Busch Hochschule für Schauspielkunst. Klemm worked as a director's assistant and director in theatres in Austria and Germany. He also translated Polish literary texts into German and was assistant to Dimiter Gotscheff and Thomas Bischoff and, between 2002 and 2005, assistant to Frank Castorf in the Berlin Volksbühne. During the 2005/2006 season, he was the full-time director at Volkstheater Wien, where he prepared the Austrian premieres of the works of Fritz Kater ("3 of 5 Million") and Dejan Dukovski ("Die Andere Seite"/ "The Other Side"). Klemm has been working in Poland since 2005; he directed plays in the Wybrzeże Theatre in Gdańsk ("Chronicle of a Death Foretold" by Gabriel Garcia Marquez), the Powszechny Theatre in Warsaw ("Mistake" by Prus / Konopnicka / Demirski), in the Stary Theatre in Cracow ("Bakery" by Brecht, Polish premiere, "Amphitryon" by Kleist) and in the Współczesny Theatre in Wrocław ("Cement" by Mueller). In the 2007/2008 season, he was the artistic director of the Norwid Theatre in Jelenia Góra.


The project is co-financed by the European Union as part of The Malopolska Regional Operational Programme 2007-2013